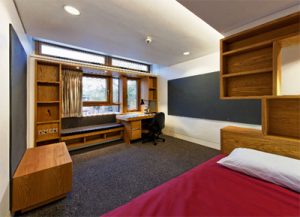 Located in the heart of Oxford, Keble College offers bed and breakfast accommodation amongst Victorian architecture and beautiful Quads. Read more about Keble's distinctive architecture (sometimes described as an architectural equivalent of a Fair Isle knit) here: http://www.keble.ox.ac.uk/about/architecture.  Less than ten minutes' walk from the main FLoC venues, Keble will host the Workshop Dinner on 13 July.
Rooms: single-occupancy, ensuite (recently refurbished) , £80/night +VAT
budget single ensuite (less recently refurbished), £70/night + VAT
standard single rooms (single-occupancy bedroom, shared bathroom) – clean and functional, but less recently refurbished, £65/night + VAT
Price: £65-80/night + VAT
Location:  Parks Road, Oxford OX1 3PG
Book via: www.keble.ox.ac.uk/conferences/book-your-accommodation – enter the promotion code FLOC2018.

Note: we have a "core" booking period from 9-17 July with rooms on hold, but it will be possible to extend many of these bookings to include a few days at either end. If you would like rooms outside the core dates, please write sinead.webster@keble.ox.ac.uk and she will let you know whether rooms are available on those dates, and set you up a personal booking code.
Note also: Bedroom reservations must be paid for by debit or credit card on the online system.
On your booking confirmation you will receive log in details unique to your reservation.   Just follow the link on the confirmation and use the login details if you need to cancel or amend your booking.
If you have trouble with your booking, please write conference@keble.ox.ac.uk; if you haven't had a reply within 48 hours you can try calling on +44 (0)1865 282505.  This is University accommodation, not a hotel, so their staff work UK business hours Monday to Friday.