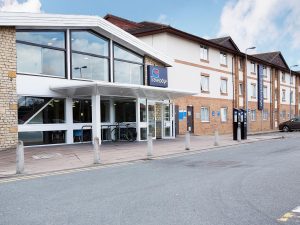 The Travelodge at Oxford Peartree roundabout is a straightforward 15-minute bus journey from the main FLoC venues.  Travelodge is a chain of simple, dependable hotels aimed at business travellers.
Rooms: Single-or double-occupancy room (king-sized bed), some double twin accessible rooms and family rooms. Overview availabe on the hotel website
Amenities: wifi, breakfast optional – no fitness area
Price: about £/122 night for single-occupancy (including breakfast and wifi)
Location:  Moto Service Area, Peartree Roundabout, Woodstock Road, OX2 8JZ
Book via: https://www.travelodge.co.uk/hotels/60/Oxford-Peartree-hotel.  We were unable to negotiate a block booking so book early to secure a room!
Notes:  This hotel is well outside the city and easily accessible by car (especially if you are coming from the north) – but it is well connected to the FLoC venues by bus.  If you are coming to Oxford by public transport, there is a good bus service from Oxford Parkway rail station.