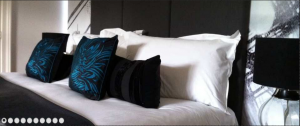 The Remont is a boutique hotel which is well served by buses which drop you off directly outside the FLoC venues (13-minute journey time).
Rooms: Various ensuite (rooms to sleep one, two or three people). Details availabe on the hotel website
Amenities: wifi, breakfast
Price:
Small double room £127 per night
Standard double room £137 per night
Superior room £157 per night
Twin room £137 per night
Location:  367 Banbury Road Oxford OX2 7PL
Book via:  http://www.remont-oxford.co.uk/room-rates, using the code FLOC2018.  If you have any questions, call on: +44 (0)1865 311020 or email info@remont-oxford.co.uk
Notes:  We have block-booked 20 rooms for 6-19 July, but they will stop holding the rooms for us on 8 June – after that point, you'll be competing with all of the Oxford tourists.