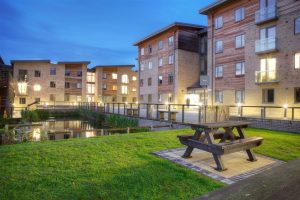 Oxford Brookes has a variety of student accommodation, available for about £50 per night: we were not able to block-book accommodation so book early to avoid disappointment!
Rooms: single-occupancy ensuite.  Rooms in the Clive Booth Postgraduate Centre are in the form of small flats: groups of 6 (individually-locked) bedrooms arranged around a central kitchen area.  At Scott House, it is 24 rooms sharing a kitchen and lounge area.
Price: approx. £50 (single-occupancy) (bedding included)
Location:  Various (all well connected by public transport).  We particularly recommend rooms in the Clive Booth Postgraduate Centre, in terms of amenities and location.
Book via: www.brookes.ac.uk/venues/accommodation
Note: Thames Street bedrooms are not available for bookings in July.