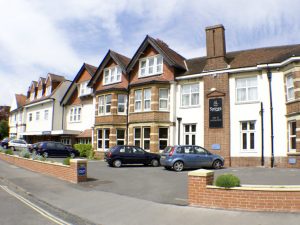 The Best Western Linton Lodge is a pleasant 17-minute walk (or 11-minute bus journey) from the main FLoC venues.
Rooms: Various ensuite ("standard" and "executive" rooms, some accessible rooms). Overview availabe on the hotel website
Amenities: wifi, breakfast optional – no fitness area
Price: about £130/night for single-occupancy.
Location:  Linton Road, Oxford OX2 6UJ
Book via: http://www.bw-lintonlodgehotel.co.uk/.  We were unable to negotiate a block booking or discount with the hotel but it is worth asking if they offer an academic discount for people attending an event at the University of Oxford (this is sometimes possible but usually applies to nights when they expect lower occupancy rates.  You'll need to phone the hotel to find out: +44 (0)1865 553461).
Notes:  Linton Lodge has a nice garden out back and is a reliable place to stay, with the kinds of guarantees that come from being part of the Best Western chain.  It is an easy walk to the Cherwell Boathouse (where you can have a very nice dinner, or even rent a punt or canoe and spend some time on the river), or you can walk north on the Banbury Road towards Summertown (10-15 minutes) where there is a wealth of restaurants and coffee shops.