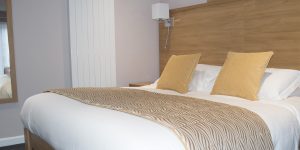 Until recently, Five Mile Guest House was called "Five-Milve View" — for its "view" of 5-Mile Drive across the street!  A bit cheeky, but a good place to stay all the same: an easy 15-minute bus ride from the main FLoC venues.
Rooms: Various ensuite (single, twin, double, triple). Overview availabe on the hotel website
Amenities: wifi, breakfast
Price: as low as £75/night for single-occupancy
Location: 528 Banbury Rd, Oxford OX2 8EG
Book via: https://via.eviivo.com/5mileox120aa#search
Notes:  We were unable to negotiate a block booking with the hotel but they are friendly – feel free to call them if you have any questions.